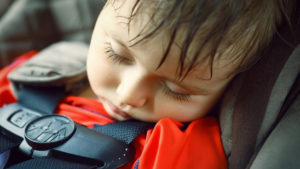 Parents of current times seem to have generated an important check-list question when leaving home with the kids in tow.
Back in the day (an expression which was frequently used when the elders, folks my age, started talking about yesteryear) – when parents were living life with less stress – not counting the kids didn't create the deadly problems we frequently hear on the news.
"How could they leave their child in a hot car while they attended a church meeting?" has been the on-going criticism directed at the Dallas, Texas parents of the 3-year-old boy who died last week in the back seat of the family car.
The parents had their other four kids in tow and reports say they didn't realize the fifth one was missing.
How could that happen?
"Pure negligence," said one very self-righteous mom who declared that anyone who would be the cause of any child's death should be prosecuted to the full extent of the law.
I'm not so sure of that nor am I self-righteous.
"Oh, so you don't think it's child abuse?" asked Ms Do-Right Mom.
They forgot the toddler. They will pay forever with the guilt of forgetting. Their lives will never be the same knowing that their child died because of them.
"So, you're gonna let 'em off the hook based on forgetfulness?
Yes, l am and maybe it has something to do with when back in 1947 my mother left my baby sister parked in her buggy in the Ralph's Store on Vermont Ave. in Los Angeles.
It wasn't a 90-degree day and baby sister Angela didn't die. Halfway down the block, as we walked home from the store, Mom remembered the baby – but she hadn't had one in ten years so I suspect she wasn't used to having a kid with her who wasn't walking.
Someone might well have taken our new family treasure. We had no guarantee that when we rushed back into the store, the baby would be there.
Yup, if my mother had counted how many kids she left home with and counted again when it was time to leave the store, I wouldn't have this story to tell.
If the churchgoing parents had counted how many they left home with and counted again when they reached the church and started helping their kids out of their vehicle, their toddler would not have been left behind.
For Ms Do-Right Mom, may she broaden her views of neglect, abuse and irresponsibility and may she recognize that parents are under more stress in 2016 than my mother was back in 1947.