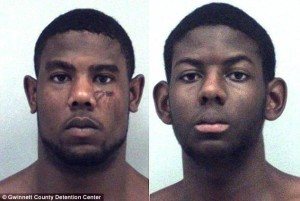 Christopher/Cameron Ervin
"Those were not our boys who did that to us," say Yvonne and Zachary Ervin, the Atlanta GA parents of Cameron, 17, and Christopher, 22, who attempted to murder both their mother and their father.
The elder Ervins went on to say that the boys are forgiven and they will continue to stand by them.
Get real!
But I'm asking for far too much here. Any parents who raise kids who will attempt to commit this heinous act don't understand what's real.
All parents who raise kids to believe their behavior is acceptable are in for a rude awakening. Or in the case of the Ervins, an opportunity to maybe not ever get to awaken again.
Far too many of today's "looney" parents create monsters like the Ervin brothers by the continuous acts of never holding their children accountable.
Children don't need all that's usually showered upon them. What they do need are limits, consequences, and a set of values that help them understand that life is not centered around them.
Yvonne and Zachary Ervin created these two monster brothers who will undoubtedly spend the rest of their lives behind bars after the expensive attorneys who were hired  ( by the forgiving Yvonne and Zachary) didn't get the court to pronounce a not guilty verdict.
These doting parents will take the witness stand in the defense of the boys and they will weep when the verdict and the sentence are handed down. They will not miss a week without visiting the prison no matter how far the journey.
If you doubt my perspective, ask yourself what's been going on in this household for the past 22 years.
One of the brothers told investigators he's been plotting to kill his parents since he was 11 years old.
Since their arrest, both brothers have mentioned a "bad home life." But friends and family, according to news sources, are shocked to hear something like that.
One friend, Derrick Butts, told a news reporter, "if you call a troubled home life having everything you ever wanted, then I'll take that trouble any day."
And therein lies the problem!
Parents take heed!                                       Parents adjust your barometers!
Read the news story at: http://www.nydailynews.com/news/national/atlanta-parents-forgive-sons-accused-kill-article-1.2366682