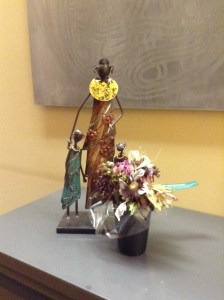 Looking back., I guess that could be called reflecting, I'm pleased to have forgotten Sunday, May 8th, was Mother's Day and a time for created celebration.
This special day in America is marked by great commercial success providing huge profits for the floral industry, the confectionary folk, and restaurant owners – and the list goes on.
Anybody want to set me straight and provide an argument against my point that the honoring of mothers is dwarfed by the reminders, commercials and other subtle demands that our honorees are to be bestowed with, well, let's say a diamond pendant from Kevin Jewelers.
My friend from China said, "Whoa, not so fast with a distaste for the celebration." Good point because, as she reminded me, Mother's Day is not just an American tradition.
In 1997, the day was made to be one that helped poor mothers, and although the celebration came from the U.S., it was in line with China's respect for the elderly and family.
John, from a village in Ghana, West Africa, that is located, he explains, not too far from the capitol city of Accra, never heard of such a day until he came to America.
Mothers are honored every day in many ways, he says. Mothers as well as fathers, are revered and children honor them by giving respect every single day.
It's been many years since John visited the village of his youth. What western influences might he find have been integrated into the quiet and once simple way of living?
It doesn't matter whether it is called Moederdag/Moederkesdag in Dutch or Haha no Hi in Japan, all over the world mothers are given a time to be honored.
Brunch or dinner doesn't really matter. Flowers could be left to wither.. Candy? Does she really need the calories?
A phone call to her ought to have as much and even more meaning than a diamond pendant.
Ah, reflections! Not last year, Not this year. Maybe next year I'll realize I live in America and bring my children to understand that Kevin's diamonds are a mom's best friend, Sees candies are a Mom's best pounds and Armstrong nurseries has the easiest-to-grow potted perennials.