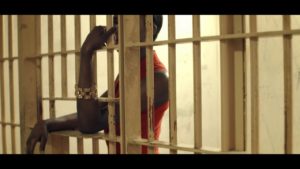 American Women inmates have now made history  by  becoming  the fastest growing prison population in America. And to boot, there are more women prisoners in America than anywhere else in the world.
But when we talk Women's History Month, we look for the upside of the contributions that have been made.
Maybe, just maybe, we ought to review the full spectrum. True we've had women in the political arena who have sought the highest office in the land. We have women trailblazers who've made a mark in corporate America.
We find these high-profile ones wearing power suits and carrying fine leather brief cases adorned with personal monograms.
We find them in the corporate conference room and we see them fulfilling their ambitions in Congress the Senate,the House of Representatives and at the local level in state assemblies.
But there are  millions of women  we tend to forget. However, they too are making history dressed in orange, blue or wide-stripped prison clothing and instead of carrying fancy briefcases they carry with them, at all times, their prison number.
Every inmate is known by their number – they are not much more than that as deemed by prison authorities.
Correctional Populations in the United States, 2013-Bureau of Justice Statistics– published December 19, 2014, report female jail inmates  increased 10.9 percent between midyear 2010 and 2013, while the male population declined 4.2 percent.
Reports show that female jail population grew by an average of about 1 percent each year between 2005 and 2013. In comparison, the male jail population declined an annual average of less than 1 percent every year since 2005.
The numbers show the rate of incarceration for women has been growing nearly twice as fast as that of men since 1985.
In 2013, According to the International Centre for Prison Studies, there were 201,200 women incarcerated in the U.S. — almost one-third of the world's documented female prison population.
Currently there are more than one million women behind bars in the U.S.,
Our annual celebration of Women's History Month must become a time of commitment and action directed toward those who are locked away and discarded as though they don't exist.
These women have made history. Many  are locked up , not just because they have committed a criminal act, but most likely because of the circumstances of the environments in which they were raised.
The Bureau of Justice Statistics report a history of victimization:
The majority of women in prison are survivors of domestic violence. Three-quarters have histories of severe physical abuse by an intimate partner during adulthood, and 82% suffered serious physical or sexual abuse as children.
Female inmates , according to reports, have higher rates of mental health problems than male inmates (73 percent of females versus of 55 percent of males in state prisons).
Many women inmates are totally lost in the system unlike how a hardened criminal may know to survive prison, women who are there because of relationships to criminal men, are often unable to cope.
And because of stringent reunification laws, upon release, mothers who have been incarcerated for longer than a specific period of time have extreme difficulty regaining custody of their children.
Approximately 7 in 10 women under correctional sanction are reported to have minor children. The count of children left behind is said to be over 1,300,000
There is an extreme  over representation of minority women behind bars which prompts many historians to reflect on a slavery system that was abolished by name; only to be replicated by a forced labor system called prison.
• Black women represent 30% of all incarcerated women in the U.S, although they represent 13% of the female population in general.
• Hispanic women represent 16% of incarcerated women, although they make up only 11% of all women in the U.S.
As women, are we going to continue focusing our attention on the power suits or will we move, like we should,  in the direction of halting this current trend  of women making history by being the fastest growing segment of the American prison population.
Let's work to trade prison colors for power suits and change an inmate's prison number to their monogramed initials affixed on a slick leather briefcase.
We can all do something
 History is what we make it
Our non-profit, Talk About Parenting with Shirlee Smith's Mothers Behind Bars – the parent puzzle program,  works with incarcerated mothers.  Learn more