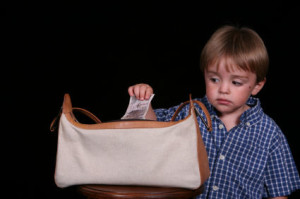 "Who took my money that I left on the kitchen table?"
Nobody wants to answer but somebody knows the truth about the small theft of the one five-dollar bill that was left with a couple of ones to accompany it.
"Eight bucks is missing and ain't nobody leavin' this house 'til it's recovered!"
Young eyes start rollin' but nobody's talkin'
Junior's gonna miss his Little League practice if nobody can leave the house.
Ms teenage has a baby-sitting job she's supposed to get to in just about an hour.
Well, maybe Mom doesn't need or want to know who took the money and maybe she just wants the recovery to happen.
Little sister has nowhere to go and is pefectly happy not leaving the house. And, furthermore, she doesn't understand the fuss about money that wasn't put away like she's been taught to put away her toys.
"When you leave your toys out, you may never see them again," she's heard over and over and she learned that Mom practices what she preaches because there was many a toy that didn't get to the toy box that must have been dumped into the trash bin, since she never saw them again.
That's the family countdown. Did Mom really leave money on the table or did she forget she'd put it in her wallet?
Will Junior 'fess up or just slide the money back in place when no one is looking?
The sister's got a job so would she really be helping her self to Mom's hard come by $8?
Ah, the little sister?
Food for thought here. What's your take on this household scenario?