Not too happy about this?  An unhappy New Elf?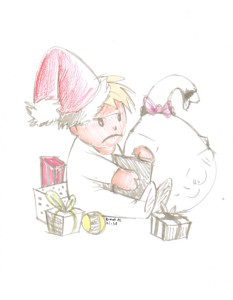 Making a list and checking it twice? Wondering what to give the child who is naughty and nice? Wondering what to give the kid who already has it all?
How about nothing? Well, not really nothing BUT nothing wrapped with tinsel paper and tied with a bright bow to be found under the family Christmas tree.
Here's some sound and quick advice which answers this questionable annual worry in the heads of too many parents: Don't make a list. The kid who has everything doesn't need something else.
But, more than likely, those who fret about this don't want something like a simple and practical answer.
One mother told me she made a list for her son last year, but she was a late shopper and the items were nowhere to be found when she hit the stores.
Oh, what must she do? She was stressed and feeling guilty.
Another mother of three said her crew had every trinket on the market . She wondered what to give them for Christmas.
How about trying something a little different this year. Instead of shopping for the kid who has it all, shop for the kid who only owns the too-small pair of shoes on his or her feet.
Let's shop for the kid who sleeps with his two brothers in the back seat of the family car and when they got evicted from their home had no time to grab a favorite toy, or, for that matter, any toy.
How 'bout we make a list of all the homeless shelters no more than an hour's drive from our home. We will need to check the list twice just to be sure there are kids who are allowed to stay there.
Now, this sounds like it could become a Christmas to remember. A different kind of approach but one that certainly answers the yearly dilemma.
But what to tell our kids about no packages for them under the tree?
Let's try the truth; we'll tell 'em they already have too much and we'll take them with us for delivery at the shelter.
Let's put a Santa hat on our kids' pampered heads and give 'em a sack with gifts – for somebody else.
We can do this!