I used to ride Greyhound bus whenever and wherever I travelled. Way back, many years ago, I took my brood of five kids ages 3 to 13 from Los Angeles to Mendocino, and we had a blast. Probably a 15-hour ride, but it was great family time.
The ride was almost as great as our stay in my friend Laurel Moss' tepee
where she was living while her house was being  built.
     I took Greyhound to a conference on welfare reform ( ha, ha) in 
Washington D.C.
     I went to a Black Journalist Convention in New Orleans, ridin "The Dog."
     I was young back then.
     But even with age creeping up on me, I was still a loyal passenger taking the Greyhound to Atlanta GA – several times.
     My last rides took me to "The Springs" where one of my daughters lives. She didn't like picking me up at the cute little station, there, and offered to buy me airline tickets for my visits.
     No, thanks!
     Okay, I took the train. However, the train didn't go to the Springs and it only went as far as a place called Raton, New Mexico.
     But daughter was willing to pick me up there, even though it was a two-hour one-way drive from the Springs.
     Amtrak would have taken me to the Springs via one of their busses BUT it would deposit me at the Greyhound station Dear Daughter objected to being at.
     Ho, hum!
     I was invited to visit a relative of her's who lives in the Gambling City and it was suggested I ride The Dog with this relative, as she had come to Los Angeles for a visit.
     You guessed it. The relative, my age, had a roundtrip via Greyhound. It had to have been a first time!
     If my late mother were to return to us by some magical "Restore the Dead" formula, and it was said she would greet us all if we came to Bakersfield by Greyhound (probably a short  four-hour ride),  I would have to miss this special event.
     I forgave the crappy bus company for, while on my convention trip, not equipping bus drivers with mobile devices so the guy who held the knife to a passenger's neck for about three hours as we rumbled down a dark highway could have been apprehended.
     But now that I'm an eighty-year-old woman, I'm not about to forgive them for not letting passengers prop their swollen legs/feet up on a seat. I tried to do that on my last trip.
     Further more, I'm not about to forgive the passengers who ride The Dog who haven't washed themselves for about a year.
     And I will never forgive the fat woman with the screeching baby who did not have it's poop diaper changed from when they boarded in  Atlanta to when they disembarked in Los Angeles.
      My final reason for missing my mother's possible return to earth is I will never go to the bus station at 7th and Alameda St. in Los Angeles and be forced to be witness to the stench, the poverty and the heart-wrenching view of destitute people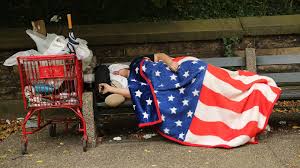 in a city where the Walt Disney Concert Hall, fancy hotels and skyscrapers are just a few blocks away.