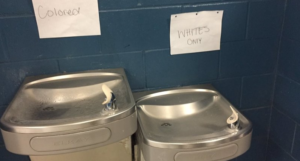 No matter how racist, bigoted, anti-women, or the other attributes that tell us who  President-elect Donald Trump is, the burden of decency remains in the hands of parents  preparing  children for the world in which they will have to live.
Black folks – Black parents, that is – should have a jump start on The Donald's influence on non-minorities in their zeal to follow his lead and take America back to "white-only" drinking fountains.
Truth be known, Trump didn't unleash racism. It's been haunting Black American families ever since we were released from bondage. Simply put, White America either didn't know this or found it best to think America had improved.
But many Black families have continuously prepared their children for the name-calling, the unequal education, the shoddy treatment, and other exclusionary tactics that have made us second-class citizens.
"If you wanna move forward in this life," the old folks have cautioned, " You've got to get up earlier and stay up later than the White folks you're working with or sitting next to in class."
In case some Black parents forgot to tell this to their children because their split-level home in the suburbs fooled them into believing they had arrived, let me welcome these families to the new day – which is actually the old day – same ol' same ol'.
In some schools, news reports say, White students have been chanting "White Power."
Time for a Black History lesson. Have a dinner conversation about the treatment of James Meredith when he went to Ole Miss Law School back in the '60's.
Have a little breakfast conversation about the results of Topeka Kansas and Brown vs their Board of Education court decision.
Hmm, think about the lessons those parents were having to teach their children.
But surviving on a daily basis, in spite of racism, has always been at the top of the  list for preparing our kids for life in the USA.
Any Black family fooled over the years into believing they'd arrived are now  forced to acknowledge that in their quest to climb to the top in White America, the Black folk they left behind are just like them.
Donald and his blatant agenda have not started any of the turmoil. It's been here. It never went away.
America has shown its true colors. Now, all parents have some serious lessons to teach. Black ones already know but too many have tried to ignore reality. White ones never took the time to find out. All the other groups The Donald has targeted had an inkling as to how society saw them; but now they know for sure.
Knowledge being power gives us the opportunity to stop turning our backs on the ugly truth and instead measure up to the challenge.