For the mothers who delivered babies and were caught up in the crack cocaine era of the 1980s and 1990s, Mother's Day has a different place in their lives.
If drug use was suspected and the testing results were positive, a mother in the hospital for delivery had her newborn detained and placed in foster or in relative care.
Many drug-using mothers never saw their children again.
Crack babies, as they were called, had lives that were governed by Child Protective Services, and their mothers were ordered by the court to take approved rehabilitation programs as a condition for gaining  custody of their child.
Did they enroll? Did they complete their programs? Did they gain custody of their children?
SOME OF THE MOTHERS
Delia, when discharged from the hospital maternity ward, went back to the streets where she'd been for a long time before her most recent pregnancy.
Her new baby girl, born in the early '90s, was her seventh child. This time around, Mom's drugs of choice were crack cocaine and heroin.
Delia was 50, and her mother, who was in her 70s, and who'd taken in most of the other children, just couldn't handle one more, so instead of relative care the infant girl was placed in a foster home.
Marci was a drug-addicted prostitute. She had no idea who the father of her new child was, and a wild guess would leave one to decide she probably didn't care.
Her baby girl grew up in foster care wanting to find her mother. At the age of 17, the teenager hitched a ride to another state where, she had learned, her mother was living. Upon finding her, she learned there was to be no bonding, as the mother was still on the streets and still a heavy drug user.
Olivia, who was serving a lengthy prison sentence, suspected her child was classified as a drug baby because she had been using crack cocaine throughout her pregnancy.
But in Olivia's case, her child had not been taken from her and placed in protective custody. He went to live with the father's relatives.  From all she heard, he was doing well.
Some mothers abandon their healthy newborns and do so with a dramatic flair.

Baby X born at the bank, who was one of the newborns I fostered, wasn't a case of drugs. It was pure and simple abandonment.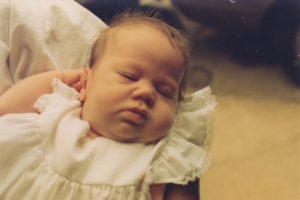 CRACK BABIES DON'T DO WELL
Whether snatched from their mothers immediately after delivery in the maternity ward or sent from the hospital without the knowledge of their drug exposure and then placed with relatives, these babies reflect the horrors inflicted upon them even though they never smoked, inhaled or shot drugs into their tiny veins.
Crack babies are troubled infants. They are out-of-balance toddlers. They are frightened preschoolers. And they are miserable in school at an older age, trying desperately to meet expectations that are beyond their reach.
They are diagnosed with ADHD, Obsessive Compulsive Disorder, Depression, Anxiety, Anti-Social Disorder and myriad of other clinical issues.
Often relatives and other caregivers don't recognize the symptoms the children display as mental health problems needing professional attention, so there is no official mental health diagnosis. These children continually fill every school district's special needs program.
HAPPY MOTHERS DAY FOR SOME
Ah, Mother's Day, and does it have meaning for mothers of lost children?
Mother's Day really isn't all that it's cracked up to be when we take a good look at who it really has meaning for and look at all of those who don't fit the imaginary picture.
Flowers, candy, that special gift and the swanky restaurant for brunch or dinner seems to have meaning only for a select group.
America has always had abandoned children. We've always had mothers who've lost their kids. There have always been kids who just aren't part of the bigger picture — the one that is  constantly presented to us — that picture of happy united families smiling and the mothers and the children being loved.
This Mother's Day, along with recognizing the moms we know who've done a great job by keeping their children, keeping them healthy and raising them in a loving home environment, maybe we should consider getting involved with the idea of making either a troubled mom's life better or helping abandoned children have a safer existence.
GET INVOLVED
ST Anne's: http://stannes.org
Friends Outside: http://www.friendsoutside.org
Prison Birth Project: http://theprisonbirthproject.org/
Families for Justice as Healing : http://justiceashealing.org/
SOUL Sisters Leadership: https://www.soulsistersleadership.org/
Essie Justice Group: http://www.essiejusticegroup.org/
A New Way of Life: http://www.anewwayoflife.org
Mothers Behind Bars: http://talkaboutparenting.org/mothers-behind-bars/