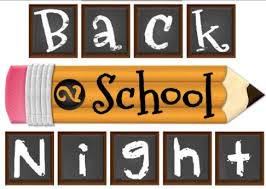 DIDN'T GET THERE THIS YEAR?
Six steps for the working parent and all other parents to manage back to school night. It's already happened and you're either feeling pain for not having gone OR you went but . . . .
First, school districts don't consult individual parents to ascertain what's best for their schedule.
Second, with a rush of parents crowding the classroom, there's not much benefit for the parent when it comes to learning the child's function in the classroom.
Third, teachers, administrators and even custodians are on their best behavior. After all, the school is on display for visitors.
Here's what you oughta do:
1) Make your own back to school appointment to visit the teacher(s). Be sure to have ready a full list of questions
2) Operate from a knowledge base as to what you expect, find out how the curriculum fits your expectations, and be ready, if necessary, to adjust accordingly.
3) Ask for and discuss school policies regarding appropriate dress, student cell phone usage, campus/playground security, bullying, truancy, suspensions, expulsions, parents visiting classrooms.
4) Make yourself known to administration: Principal, Vice Principal, cafeteria folk and the custodians.
5) While your contact information is on file at the school, make sure to emphasize to those you meet with that you want to hear from them. Provide best times for contact AND make sure to let them know evening is good for you.
6) Turn missing back to school night into your personal journey to your child's school on a regular basis
The above are key ingredients for improving your child's class performance, and it gets done without being part of the pack. It gets done without participating in an archaic tradition that needs to be abolished.
"I generally don't attend back to school night but I work during the day, so why would you even suggest, I start making a daytime appointment at the school?"
                             When you have a dental appointment, what do you do?
When your child is sick, what do you do?
When there is a family emergency, what do you do?
Your child's education is as crucial as dental work and health attention. Think of education as a true family emergency.