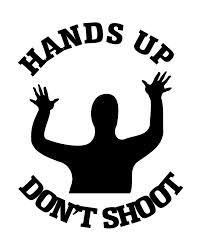 There is much to be said regarding the shooting death of Michael Brown at
the hands of a "peace" officer in Ferguson, Missouri.
The news coverage in Ferguson – the minute by minute repeat reporting -has made a circus of the tragedy. The unrest and the militarization of the small city leaves us to ponder the reality of American life in the 21st Century.
Only when I got the following email from my friend Carmen was I able to think maybe something is happening here.  And after reading it twice, I was then able to  stop and ponder what might be going on, here.
The email:
Carmen Morgan, Project Director – Leadership Development Interethnic Relations at Asian American Advancing Justice Los Angeles
Friends,
I've just come back from Ferguson with a heart full of hope. I am inspired by the wonderful people (especially the youth) of Ferguson.
What the youth have undertaken in Ferguson (and make no mistake, this is a youth-led movement) is no small feat. Many of them are organizing and protesting and are not even sure where they will sleep at night. I asked Jeff, one of the local youth organizers, when he thought the protests might end. He looked at me un-haltingly and said, "Not till we have justice."
Many of the young men express that they are fighting for their lives and are humbled, even brought to tears, when they are told of the national/international support for their effort. This will be a long haul for them. They will need ongoing resources.
In addition to solidarity and support through our own local protests, I would encourage those of us who can, to donate directly to efforts on the ground in Ferguson.
I've seen first hand the incredible work of the Organization for Black Struggle (OBS) based in Ferguson. They are ground zero for the organizing efforts. They are a collaborative multiracial effort and provide organizing and outreach training for all the non-local protesters.
They coordinate housing, provide medical supplies, coordinate legal services for those arrested – and more. So donate to them online if you can at: obs-onthemove.org.
From my perspective, I am not pitching for donations. It is up to readers to follow their own hearts. What I am doing is providing a glimpse of promise and hope from Carmen whom I respect.