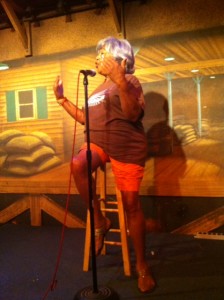 Chile said she didn't believe I could
get on a stage, talk into a mic, capture the attention of the audience AND make them laugh.
And so, during my years as a stand-up comedian working clubs and comedy rooms from San Diego to Seattle Washington, my good friend Chile, pretended she had something else to do on the nights I was on stage in nearby southern California locations.
But then came the new baby who was two days old when a county worker, not a stork, brought her to my door.
The end of being on the road. The end even to of comedy workout rooms that were close to home. But it was the beginning of a substitue career.
Not one of laugher and nonsense but instead a career of helping parents be better parents.
Then the two-day old infant reached the age of 23. Then the former comedian who made jokes about babies and their 2 a.m. feedings and their poop filled diapers looked in the mirror and saw a reflection of an elderly great grandmother with a head full of gray hair.
Not graying BUT gray!
Too far gone to recapture youth, but not too far gone to waddle up on a stage, grab a mic from it's stand, stare out at a room full of people and declare old folks ain't too old to be funny.
Chile came to the comedy club a few months ago. She's also getting old and must have figured it was now or never.
"Damn," she said, "You're not serious like I thought you were"
She sat on the row right next to the stage AND she laughed.
I love stand-up comedy. I love the challenge. I love the laughter and I love it when the audience makes me laugh.
Come on down to the Pasadena Ice House Back Stage, Sunday, November 22, 7:00 p.m. and laugh with me about raising kids, living in "up-scale" Pasadena, white people, black people, prisoners and whatever else I can squeeze into a 10 minute set.