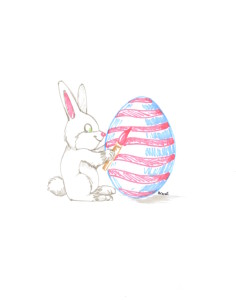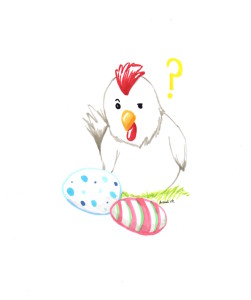 What to do for  Easter preparations?
   Chocolate candy shaped like a bunny rabbit doesn't have to be in the Easter basket.
   Those brightly colored jelly beans could also be left on the supermarket shelf.
When there's a buck to be made and they're bucks to be spent, who's gonna protest?
Eggs?
Well, how many of the dyed and decorated spectacular wonders do the kids actually eat?
Why didn't the sugar-filled baskets with the shredded fake green grass become obsolete years ago?
Oh, the Easter Parade?
Outfits. Hairstyles. Hats. Shoes. Credit cards maxed out just to be crowned the brightest and best-dressed in both the traditional and non-traditional parade.
Ah Tradition!
A honey-baked ham with pineapple and cherries adorning the smoked body of some swine that was fed gruble filled with chemicals. This, mixed with jelly beans, chocolate candy and eggs from chickens who found their food digging it out of an earth treated with Monsanto chemicals isn't really good for the body or the soul.
                                   Easter Sunday?
Did someone say it isn't about clothes, baskets and food?
I know I'm a bit out of focus but I wanted to throw out a few revolutionary thoughts that just might suggest to even one person that somethings kinda strange about all of this.
OMG!  I forgot the egg hunt.